MADCC regrets that the next Cheshire Ring Canal Race will now not take place until 2022.
MADCC wants the next race to get back to its 1977 roots with many more relay teams in addition to the paddlers who do the race as a long-distance challenge. Relay teams definitely have the most fun!
Canoe or kayak around the 96 mile canal route, in craft for singles or pairs. Relay teams are encouraged but the brave can go all the way (non-stop).
Entry information, rules, and detailed notes about the race route can be found here.
A race report and the results from the 2019 Ring Race can be found here.
Record times for various classes and an archive of past race results can be found here.
Race Overview
The Cheshire Ring Race is a race travelling anticlockwise around the canals of Cheshire, starting and finishing at Higher Poynton on the Macclesfield canal. The race is 96 miles long and has compulsory portages over 92 locks and 5 tunnels.
The race is open to individual paddlers, crew boats, and relay teams using kayaks or Canadian canoes. SUPs are not permitted due to the conditions of the access agreement on the Bridgewater Canal.
The race is intended as a 24-hour challenge, with competitors starting early on a Saturday morning and finishing early on Sunday. A 15-hour cut-off is applied at the halfway point of the race to eliminate very slow crews. Due to the continuous nature of the race all competitors must have a support crew.The Cheshire Ring Race is a challenge that is open to paddlers of a range of abilities, taking as little as 15 hours for a solo K1 (record set in 2011 by Stuart West), but more typically taking around 20-22 hours.
The race was originally conceived in the 1977 as a "lads and dads" relay event using touring double kayaks, and the Ring course is therefore divided into short relay sections between 5-7 miles each, so it is perfectly suited to relay teams made up of paddlers of varying abilities and experience.
Photos of the Ring over the years can be viewed from this album – the scenery and the kit has improved since 1977!
Some paddlers participate in the Ring because of the endurance challenge but it has been noted over many years that the paddlers in the relay teams have the most fun and, especially for junior paddlers, it can be a wonderful experience to paddle through the hours of darkness into the Cheshire sunrise.
The route takes paddlers through Manchester city centre at canal level providing a glimpse into the city's Industrial Revolution past, and close to both the Manchester premier league football stadiums, but mainly through beautiful Cheshire countryside.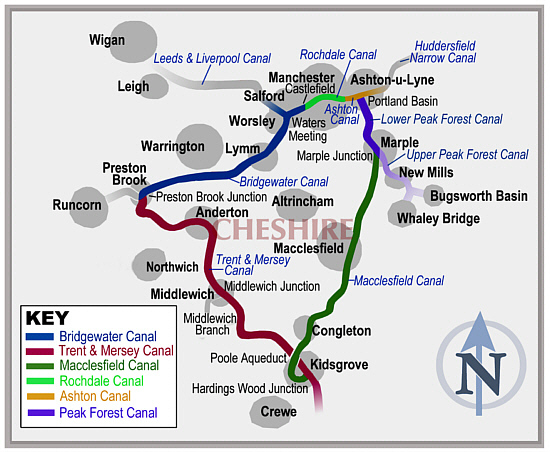 To contact MADCC for further information please use the website contact form.
Join in the conversation on Facebook
Macclesfield and District Canoe Club is a UK registered charity – No. 1175025.
© Macclesfield and District Canoe Club 2021 | Site kindly hosted by Krystal